Based on the True Story about Sophie Scholl and Fritz Hartnagel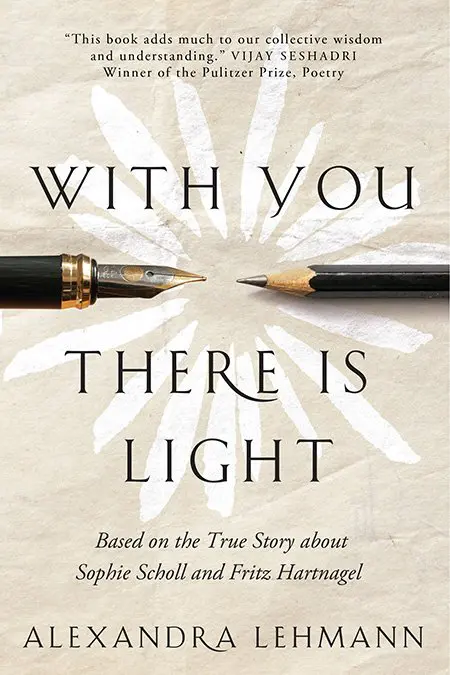 Trapped in Hitler's Army, Officer Fritz Hartnagel (1917-2001) wrote to Sophie Scholl (1921-1943) about SS atrocities. With this first-hand information, Scholl, her brother, Hans, and their friends formed the White Rose student opposition in Munich.
Today they are some of the best known figures of the German Resistance during World War II.
Told through letters translated for the first time, With You There Is Light reveals how two remarkable individuals on opposite sides of war inspired one another to act against a murderous regime.
Theirs is also a true love story.
"Alexandra Lehmann is imaginative, eloquent, and has a strong, constructive sensibility. Her long-term project, about German-Christian resistance to Hitler, embodied in the figure of the activist Sophie Scholl, is a model of how the literary and historical visions of experience can be properly blended. Alexandra's book adds much to our collective understanding and wisdom."
- Vijay Seshadri, Winner of the Pulitzer Prize in Poetry, 2015

Excerpts of Sophie Scholl and Fritz Hartnagel's letters are translated by the author and used with permission from S. Fischer Verlag, GmbH, Frankfurt.
He told her what he witnessed. What she did with the truth changed history.
Fritz Hartnagel and Sophie Scholl met as the Nazis took over Germany. Sophie grew up in the girls' Hitler Youth as Fritz graduated as a pilot from the Potsdam Military Academy.
Not a member of the Party, but sworn to allegiance through the new army oath, Officer Hartnagel is sent to war. Sophie begins a religious journey that will influence and inform her growing desire to turn against the Third Reich.
Translated here into English for the first time, Fritz and Sophie wrote to one another for six years. Their correspondence inspired one another to find out and act on the undeniable truth about the Nazi regime.
Armed with first hand information about SS and army atrocities from Fritz, Sophie, her brother and their friends formed the White Rose student resistance at the University of Munich.
Eighteen members strong and growing, this group wrote, produced and distributed five editions of anti-Hitler leaflets, reaching over 16 German and Austrian cities.
Today in Germany the Scholl name is synonymous with freedom.
BY ALEXANDRA LEHMANN
Due to a deep familiarity with German culture (my parents survived the war in the Eastern territories) and native language fluency, I was able to ask difficult questions during my research in the language in which this history happened. "Did the German people know?" or "How much was the German Army involved in the Holocaust?" were intensely personal questions. Both my grandfathers served in this army.
I base my answers evident in this story on my family of origin's individual history and the long, difficult hours spent speaking with family, German university professors, and archivists, as well as interviews with several eyewitnesses, including Elisabeth Scholl and Thomas Hartnagel.
PHOTO: (C) TUNDE JAKOB
I am honored to have written Fritz and Sophie's story and appreciate your interest in it.
Historical Context and Excerpts from With You There Is Light